Project Type:
International Neurotoxin Association (INA) Copenhagen conference poster presentation series.
Position: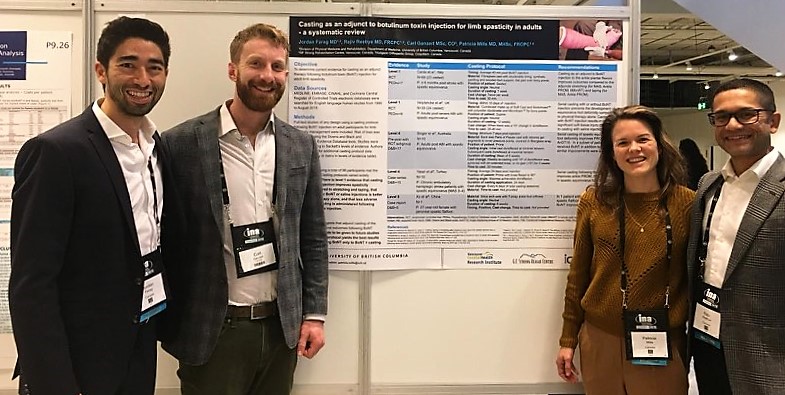 The western constituent of the Canadian Advances in Neuro-Orthopedics for Spasticity (CANOS) attended the 2019 Toxins conference in Copenhagen. The group presented a series of posters to provide an overview of current research efforts.
Narrative:
Dr Mills, Dr Reebye, Dr Farag & Carl Ganzert presented their study: Casting as an adjunct to botulinum toxin injection for limb spasticity in adults – a systematic review.
Dr Reebye, Dr Winston & Carl Ganzert presented their case series: Effect of chemodenervation and serial casting on gait parameters in acquired brain injury patients with upper extremity spasticity.
Dr Winston, Dr Vincent, Dr Jorgeson, Dr Mills, Dr Reebye & Carl Ganzert also presented their project: Cryoneurotomy as a Novel Adjunct to Botulinum Toxin Treatment for the Spastic Elbow: A Case Study.
Interpretation:
The CANOS group has been active in the pursuit of academics in a series of new and exciting realms of collaborative spasticity management. This conference provided an opportunity for further discussion with international colleagues and the planning of subsequent research efforts.
The systematic review acts as a "state of the evidence" effort to establish the need for future research in the field of collaborative conservative spasticity managmenet. The case series & case study are individual efforts initiated based on the systematic review's conclusions.